Our note-taking tool - your resource for organizing everything that matters! From random thoughts and creative ideas to sensitive access codes and contact information, this application has got you covered. You can even use it to author your own novels! With our software, you'll never worry about losing vital data again. Streamline your life and improve your productivity today!
Tired of handling multiple programs/services to manage your records? Let AllMyNotes Organizer help. This efficient software is a Document Management and Personal Information Archive program rolled into one. Featuring an unique and reliable self-repairing data store engine, your data is secure even in the scenario of file corruption!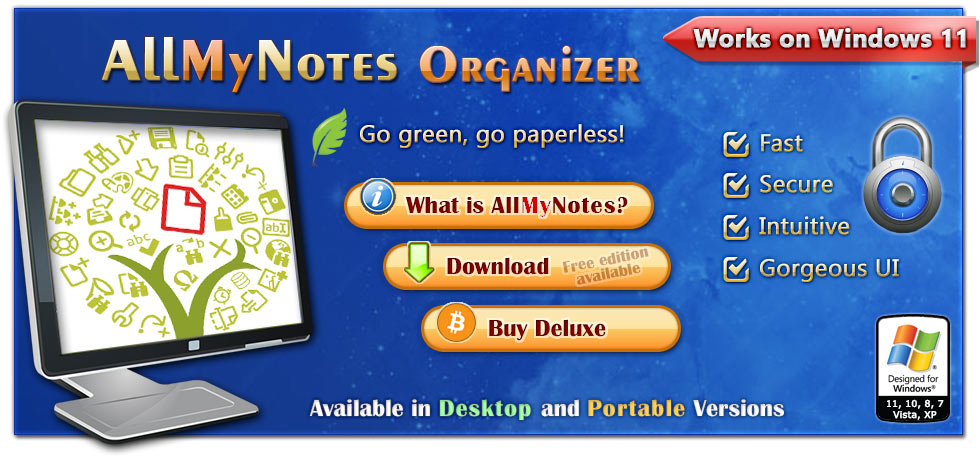 It's totally up to you where AllMyNotes Organizer will be used, it's a free-form information manager for PC, whether you need to keep random notes, manage extended records on your contacts, track tasks, build up your own knowledge base, save diaries, it all and much, much more can be entrusted to this software! All your data will be stored in single, password-protected storage file, on your own PC, away from public clouds and third-party sites.
Do you feel safe when you entrust your sensible information (banking details, authentication credentials, e.g.) to a so-called "cloud" provider, on someone else's computer? The solution is clear - keep your information offline. AllMyNotes Organizer may help you to encrypt it on your disk! With our secure local storage, you have complete ownership of your data, without exposing your privacy to cloud storage risks. Say bye-bye to subscription fees, Internet speed issues, and capacity restrictions. With AllMyNotes Organizer, there are no boundaries, and your confidential data remain exclusively accessible to you!
We offer free (Lite) and paid (Deluxe) editions of AllMyNotes Organizer. Whichever which edition you pick, you can trust that it will faithfully save your private details, let you instantly access it. Unlike other subscription-based programs, we don't charge subscription fees. Our philosophy is simple - everyone should have access to a quality app, irrespective of their budget. Even our free (Lite) edition is feature-packed. Deluxe version has a affordable price. We have no ulterior motives. Once you purchase the license, it never expires, and we do not pressure our customers to renew their license, except for very distant, optional, major upgrades. It's all yours!